Stylus 1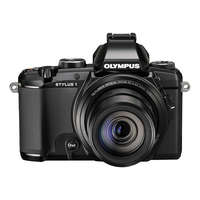 How can we help you with your Stylus 1
Stylus 1 Instruction Manuals
Stylus 1 Software & Apps
Small Target AF is added to AF target functions. Focus on small points 1/4 the size of the normal setting.
Focal distance display is selectable between Magnification, Focal Length, and 35mm Equivalent.
Easy Step Zoom is added. This feature includes nine steps of magnification: 28 / 35 / 50 / 70 / 85 / 100 / 135 / 200 / 300 mm (35mm equivalent).
Focus Peaking is added to MF assist functions. Points with clear outline are highlighted in white or black.
Interval shooting (maximum 999 shots; interval: 1 second - 24 hours) and Time Lapse Movie are added.
Conversion lens (WCON-08X) is now available. Setting is required when it is attached to the camera.
Our newest imaging software supporting various styles of workflows, this software is packed with features that meet the demands of pro photographers. New Version 1.1 available!
Contact Support for Stylus 1
Mail Us
Olympus America Inc.
CPG Customer Care and Support
3500 Corporate Parkway
P.O. Box 610
Center Valley, PA 18034-0610
Call Us
Customer Care:
1-800-622-6372
Mon-Fri 9am-9pm ET

Digital Cameras/ Digital Voice Recorders/ Binoculars
1-888-553-4448
Mon-Fri 9am-9pm ET