LS-P4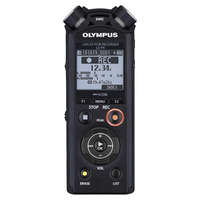 How can we help you with your LS-P4
LS-P4 Instruction Manuals
Manuals for Download:
LS-P4 Software & Apps

INCLUDED IN FIRMWARE VERSION 1.1
Slate Tone & Test Tone had been added for seamless video sound recording.
By adding the Slate Tone function the camera track and recorder track can now easily be synchronized in post production.
With Test Tone, you can output a reference signal to the camera for a quick visual reference to help you set audio recording levels.
These new features will easily help you integrate the LS-P4 into your video production routine.
Contact Support for LS-P4
Send My Product in for Service
We are sorry to learn that you have a product that is in need of repair. For details on our warranty policies and repair procedures please refer to the information provided with your product or click on the link listed below.
Olympus servicing includes a complete inspection of all functions and repair and/or replacement of all parts necessary to ensure your product meets factory specifications.
‌

REVIEW OUR REPAIR PROCESS

Review steps and available benefits to make the process smooth.

‌

SUBMIT YOUR REPAIR

Olympus service and repair includes a complete inspection of all functions, repair and or replacement of all parts necessary to ensure your product meets factory specifications, or "Clean & Check." 

Please fill out the Repair Request Form using the link below to receive a repair quote and instructions on how to ship your product for repair. SUBMIT YOUR REPAIR NOW

PRO ADVANTAGE MEMBERS

If you are a Pro Advantage Member utilizing our Repair or Clean & Check services, please call 1-800-622-6372 or visit our

Contact Us

page to get shipping information before submitting the repair request form.

‌

QUESTIONS?

For questions, call 1-800-622-6372, Monday-Friday, 6:00am to 2:00pm ET.

If you are looking for Consumer Replaceable Parts, click HERE