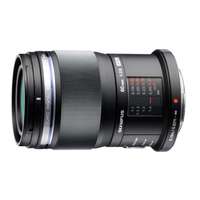 How can we help you with your M.Zuiko Digital ED 60mm F2.8 Macro
M.Zuiko Digital ED 60mm F2.8 Macro Instruction Manuals
Manuals for Download:
M.Zuiko Digital ED 60mm F2.8 Macro Software & Apps
READ BEFORE UPDATING
Please be extremely careful to follow the directions when updating your lens or camera firmware.
Never disconnect the camera until you see "OK" on the back LCD. For larger firmware updates, this can take up to 10 minutes depending on your internet connection/speed.
Disconnecting the USB cord during the update is a main reason the firmware can fail, which results in the need to send in the lens or camera for repair. So patience is key! 
Be sure to have a fully charged battery in the camera and installed OM Workspace software. Follow the "Update Your Firmware" link above to obtain this software.
Our Technical Support team is happy to walk you through the process if you would like assistance! Use the Chat or Contact Us functions found on this page.
Contact Support for M.Zuiko Digital ED 60mm F2.8 Macro
Send My Product in for Service
We are sorry to learn that you have a product that is in need of repair. For details on our warranty policies and repair procedures please refer to the information provided with your product or click on the link listed below.
Olympus servicing includes a complete inspection of all functions and repair and/or replacement of all parts necessary to ensure your product meets factory specifications.
‌

REVIEW OUR REPAIR PROCESS

Review steps and available benefits to make the process smooth.

‌

SUBMIT YOUR REPAIR

Olympus service and repair includes a complete inspection of all functions, repair and or replacement of all parts necessary to ensure your product meets factory specifications, or "Clean & Check." 

Please fill out the Repair Request Form using the link below to receive a repair quote and instructions on how to ship your product for repair. SUBMIT YOUR REPAIR NOW

PRO ADVANTAGE MEMBERS

If you are a Pro Advantage Member utilizing our Repair or Clean & Check services, please call 1-800-622-6372 or visit our

Contact Us

page to get shipping information before submitting the repair request form.

‌

QUESTIONS?

For questions, call 1-800-622-6372, Monday-Friday, 6:00am to 2:00pm ET.

If you are looking for Consumer Replaceable Parts, click HERE
Extend My Warranty - Lenses
Olympus products are built to highest quality standards and should provide you with years of satisfaction. Ensure the long lasting enjoyment of your purchase with an Extended Warranty for the Micro Four Thirds M.Zuiko Digital Lenses as well as Four Thirds Zuiko Digital Lenses.
EXTENDED WARRANTY INCLUDES:
Coverage against defects in materials or workmanship for two years beyond the original manufacturer's warranty period.
One free checkup and cleaning during the warranty period.
What is covered by the Extended Warranty?
If the Olympus product fails to function properly under normal and proper usage due to defects in materials or workmanship, during the period of this Extended Warranty, Olympus will, at its option, either repair at no charge for parts or labor, or replace.
Please Note:
Extended warranty must be purchased within the original warranty time period: First year on a new product, 90 days on a refurbished product
Extended warranty is limited to product sold in the USA, its territories, and Canada from authorized Olympus dealers. Repairs will only be performed in corresponding locations.