E-30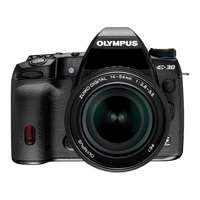 How can we help you with your E-30
E-30 Software & Apps
Reduced the sound of Image stabilizer operations when IMAGER AF and HYBRID AF are being used.
Resolved the issue where pressing the delete button in Close-up playback occasionally caused the Card access lamp to blink.
Resolved the issue where images with a changed aspect ratio played back with Index display sometimes had horizontal stripes.
THIS UPDATE WILL RESTORE ALL SETTINGS TO FACTORY DEFAULT SETTINGS. IT IS RECOMMENDED THAT THE CUSTOMER MAKE NOTES OF IMPORTANT CAMERA SETTINGS BEFORE UPGRADING CAMERA.
Our newest imaging software supporting various styles of workflows, this software is packed with features that meet the demands of pro photographers. New Version 1.1 available!