Imagine walking up to a beautiful beach that borders a vast lake with towering mountains in the back. Scattered across the beach are logs, rocks and trees. You pace the edge of the beach for what seems like a long time with your camera in hand trying to figure out what the best composition will be. You look through your viewfinder and notice the logs on the beach carry different textures that intrigue you, the snow that fell the day before left a unique pattern on the mountain top, the colour of the trees are vibrant with the changing of the seasons - enter the world of intimate landscape photography.
What is Intimate Landscape Photography?
With intimate landscape photography, you aren't focused on trying to get everything into the frame - the mountains, the lake, the rocks, the stream, the bed of flowers.
Instead, you try to break the scene down into smaller elements - shapes, objects, lines, colour, texture, patterns, light.
I like to pick out particular features of the landscape that tell a story about its characteristics. Sometimes that means focusing on what the eye can't see.
For example, if you visit Kasugai Gardens in Kelowna, BC. You'll note that the garden is a perfect balance of plants, water, and stone. You have a bridge that spans in the centre, pathways that take you through a beautiful stroll, a wooden gazebo that is nestled beside the Koi Pond, a waterfall, and an important element in Japanese gardens - stone lanterns. You could try fitting every element of the garden into the frame, however, when broken down into 'characters' of the place it's much more powerful.
Get Specific
Often when I look at the landscape I try to say out loud what about the scene I love or catches my eye. This helps me focus on something particular about the landscape.
I love how the snow has settled on the mountain top creating a unique pattern.
I love the colour of this autumn foliage during golden hour.
I love how the light and shadows have emphasized the landscape's contours.
Even when I consume content on social media such as Instagram, I even aim to get specific on what I love about other photographers' photos - the light in a photo, shadows on the landscape, the lines the water creates, the contrast of the red houses against the snow, etc.
Follow Your Curiosity
If I'm struggling to find something to photograph, I like to walk around, look everywhere, put my camera down, and take a moment. Then when I'm ready I follow my curiosity.
When I was living in Fort McMurray, Alberta. I was walking around MacDonald Island on a particularly dreary day - the clouds were dark, it was raining and cold. But these beautiful pink trees were lining the driveway and through the tree's this statue caught my eye.
The Composition
To me, taking a photo is very personal and is about how I interact with the world. Thus, with intimate landscape photography, it's very specific and intentional.
So when it comes to composition it truly depends on the subject you are photographing and your preference in style, but I like to get a tight composition so I often use the 40mm end of my M.Zuiko 12-40mm F2.8 PRO lens and either fill the frame or include some white space along the edges.
When I compose I'm not afraid to add some foreground blur to further frame the subject, create a reflection, change my angle, get low, get close, or play with the light.
Hunting for Details
Have you ever wanted something like a new vehicle? Before you wanted the vehicle you didn't notice it around town or when driving, however, as soon as you want the vehicle you start seeing it everywhere!
I like to think that hunting for details is very similar. When you turn your eye and mind to want to see patterns, colour, objects, texture, light, shapes, lines, etc., you'll start to see it more and more.
The next time you go for a walk or are a passenger for a drive actively look for details along the way that catches your eye.
If you're looking for an exercise that can help train your eye and mind to see intimate details more easily within a landscape try a timed photography challenge - set a timer for 10, 15, or 20 minutes and try to photograph as many intimate details within your location as possible.
Look at other photographers' photos on the internet or social media - can you discern particular details of the landscape.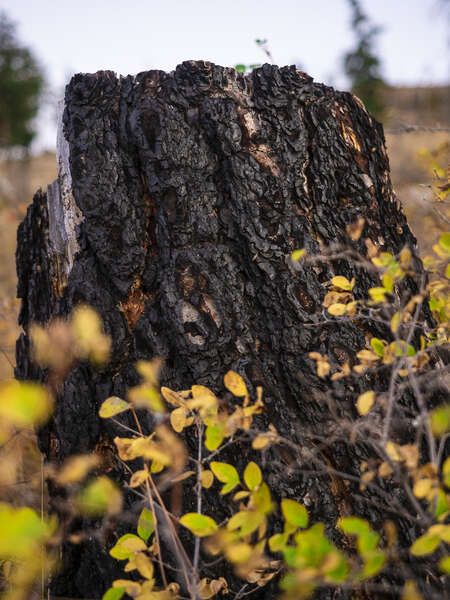 Put It All Together
On your next trip to the beach, park, trail, or mountain top – try to pick out a particular detail of the landscape that you love, catches your eye, or illustrates the landscape's character.
I try to keep the number of details in the shot between one and three.
Take a moment to think about what specifically you love about it.
Play with the focal lengths on your lens, your composition and your framing.
Keep going and at the end of your time, you'll have a series of intimate photos of the landscapes that woven together tell a story.
Final Thoughts
What has always inspired you about photography? For me, I have always been inspired by different landscapes, colours, and patterns.
I find with intimate landscape photography, instead of trying to see everything I can slow down, pinpoint something specific that I love, and see the landscape differently. You are being very intentional with the landscape.
I also like the flexibility intimate landscape photography can offer - anyone can practice, almost anywhere and any time of the day.
With a watchful eye, you'll be spotting details everywhere that you'll love to capture!
Instagram: @beautifullywander
Robynne is an aspiring travel and landscape photographer based out of Kelowna, British Columbia. When she was a little girl she loved her yearly family fishing trips to the Pacific Coast, which grew her love for travelling and experiencing new places. She maintains her own blog and her ultimate goal is to travel the globe and create thought-provoking, inspirational photos of our world. When she's not photographing the landscapes she loves exploring the Okanagan with her fiancé, spending time with her family, or cozying up on the couch with her furry companions.