Waterfalls are an element of nature that everyone wants to capture in photos. As an avid outdoor photographer and a native of the northeast, I love to capture all the majestic power of a waterfall and love to capture those falls in every season.
For me there are many elements/ important details that I focus on when planning a waterfall shoot.  I will take you through several of these in this tip.
TIME OF DAY
First and foremost, time of day is critical.  Whether it is about the sunlight or rapid end of the day timing, it is important to plan out your shoot around the clock - and the weather. 
ACCESSIBILITY/SCOUTING 
It is important to understand the terrain, how you will reach the destination and what equipment (outside of camera equipment) you will need in order to reach the location.  Sometimes the first visit is a reconnaissance mission.  I often gauge how long does it take to access; how is the terrain getting to the waterfall and what is the best focal point for the planned shoot.  Are there weather related conditions: i.e. ice, snow and wet terrain that will be a potential impediment to my capturing the shot from the location I identified.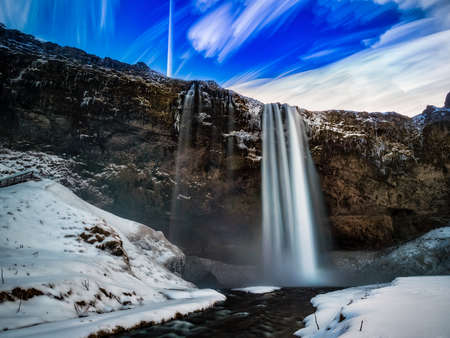 IN PREP OF A TRIP
The good news is there are several key apps that I rely on when I am scouting out a new area.  These apps help me identify weather, time of day relevance and accessibility to the location. 

Here are a few:
The Photographer's Ephemeris (TPE)
Sunseeker
All Trails
The first two apps are very focused on the sunlight/ time of day relevance for capturing the shot.  The All Trails app is great for accessing the trails that lead to the falls as well as a great review of the condition/ difficulty on the trails that will lead to the falls.
Based on the time of year, the All Trails app will help identify the best trail heads to follow as well as equip me with the trail conditions and the difficulty of accessing the falls.  The one other important app I always recommend is using your GPS pinpoint location particularly when you are trekking on your own and the terrain can be difficult to manage.  Some locations do require checking in with the local park authority before making the trek on the trail. 
Once I am clear on the trail/ access it is all about planning for the shot.  I focus on composition of the shot with a preconceived plan as to aesthetics. (i.e. do I want a milky water affect?) I also look for the potential layers in my shot including foreground, mid-ground and background.  This is sometimes part of my pre-scouting excursion but obviously with nature, this can change significantly on a regular basis.
My bag (although fully equipped for my waterfall excursion) is generally very light and allows me to be mobile. The Olympus equipment is smaller in size & weight (without any sacrifice to quality) and it enables me to be more nimble particularly in areas where I am hiking to the falls.  In my bag there are certain absolutes including:
Here are some of my images. Remember,  finding the key location for the shot is critical.  I may set up for my shot and then walk around to re-assess to potentially finding a better shot. Typically I am shooting long-exposure shots so it requires me to set the shot and then to patiently wait out the time frame before moving on. You will see the settings for each of the shots below.
USING LIVE ND
The Internal Live ND Mode in the OM-1, OM-5, OM-D E-M1X, & OM-D E-M1 Mark III is especially useful to me and a feature I am able to use to maximize my imagery.
Why Use Internal ND Instead of a Traditional Filter?
The benefit to the internal ND filters are that it requires less equipment and less transition in shooting the desired image. Not having to add on an external filter provides for quicker image set up and mobilization. Given that I am shooting moving features such as water or clouds, timing can sometimes be critical in the process.
Want to learn more about the Internal Live ND mode? Check out my latest article: WHEN TO USE THE INTERNAL LIVE ND FILTER
ABOUT FRANK SMITH
Web: http://www.franksmithphotos.com
Blog: http://franktsmith.wordpress.com
Olympus Visionary Frank Smith is a self-taught photographer whose love for the craft goes back to a very early age. Decades later, Frank's passion for photography has yet to fade as his skills continue to evolve.
A native Northeasterner, Frank often focuses his lens on regional and local scenery including the Pocono Mountains and the historical sites of Bethlehem, Pennsylvania. His raw travel and philanthropic photojournalism covers global themes, shedding light on cultural issues such as regional corruption in areas including South Sudan and Haiti.