E-30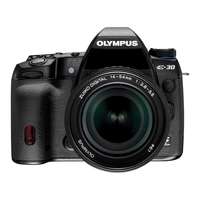 How can we help you with your E-30
E-30 Software & Apps
Reduced the sound of Image stabilizer operations when IMAGER AF and HYBRID AF are being used.
Resolved the issue where pressing the delete button in Close-up playback occasionally caused the Card access lamp to blink.
Resolved the issue where images with a changed aspect ratio played back with Index display sometimes had horizontal stripes.
THIS UPDATE WILL RESTORE ALL SETTINGS TO FACTORY DEFAULT SETTINGS. IT IS RECOMMENDED THAT THE CUSTOMER MAKE NOTES OF IMPORTANT CAMERA SETTINGS BEFORE UPGRADING CAMERA.
Legacy image management and editing software.
Contact Support for E-30
Mail Us
Olympus America Inc.
CPG Customer Care and Support
3500 Corporate Parkway
P.O. Box 610
Center Valley, PA 18034-0610
Call Us
Customer Care:
1-800-622-6372
Mon-Fri 9:00am-9:00pm ET

Digital Cameras/ Digital Voice Recorders/ Binoculars
1-888-553-4448
Mon-Fri 9am-9pm ET